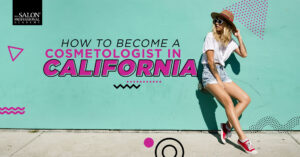 With the job outlook for cosmetologists expected to grow, now could be a great time to learn how you can start your future career in the beauty industry! We know that although starting a career you love is exciting, it may seem overwhelming to figure out what you should do to make this dream a reality. That's why we've created this step-by-step list of everything you need to do to become a cosmetologist in California.
Attend a beauty school licensed by the state of California
Complete the required training hours
Pass the California state licensure exam
Find an area of cosmetology you love
Attend a Beauty School
You can't begin a career as a cosmetologist without first learning how to provide a variety of beauty techniques to clients. Attending an accredited beauty school is an exciting stage in your journey where you can start forming connections with instructors and other students. While getting support from a team of licensed professionals, you would be learning the latest beauty trends and techniques that could help you succeed in today's beauty world!
Hair coloring techniques, basic skin and nail care, and even business strategies are all exciting lessons you could learn during your cosmetology education. Not sure what to look for in a program when deciding where to apply? Here are some things to think about when touring schools to pick the one that's right for you!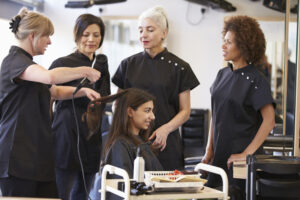 Program Hours
According to the state of California, students must complete at least 1600 hours of training in an accredited program to start their journey of becoming licensed cosmetologists. The last thing you want to do is realize that you're not qualified to take the next step after graduation. That's why our cosmetology program teaches students a variety of techniques through the required 1600 hours. 
Financial Aid
Chances are that if you're thinking about applying for beauty school, you're also wondering how much it's going to cost. Financial aid is on a lot of students' minds, which is why we offer multiple options to students who qualify. Contact us or schedule a tour at our school to ask our team more about what you could qualify for.
Flexible Scheduling
Everyone has commitments outside of school they have to think about. It's important to consider if the school has a program option that fits your specific schedule. If you're worried about fitting your passion into your life, check out our cosmetology program options. We have part-time and night classes to help personalize your education!
Complete the Required Hours
Now comes the fun part of your cosmetology journey! This is the time to learn all the trends and techniques you're passionate about. Students who enroll in our program will be able to study through a combination of classroom time and providing services to actual clients under the direct supervision of licensed professionals. You'll be spending a lot of time with your beauty school family, which is why we're committed to creating a supportive atmosphere where you feel encouraged to explore your artistic talents! 
Pass the California Licensure Exam
Once you've graduated from a cosmetology program, you're now ready to sit for the cosmetology state licensing exam. This exam will include both a practical and theoretical portion to make sure that you're qualified to help clients with all their beauty needs. After passing both sections, you're now qualified to apply for your cosmetology license. Congratulations, this is an amazing accomplishment and can open up so much for your career!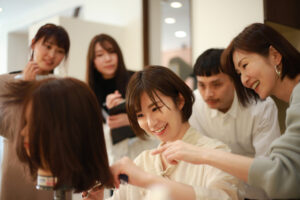 Explore Your Career Options
Ready to have all your hard work pay off? After passing the exam and applying for your license, it's time to discover your unique cosmetology career. With so many different options to explore, it's all up to you to decide what you want your future in beauty to look like! Here are just some career choices you can have as a licensed cosmetologist:
Makeup artist
Hair stylist/colorist
Nail technician
Salon owner
Platform artist
Start Your Cosmetology Journey Today!
Now that you know everything you need to do to become a cosmetologist, you're ready to take the first step and apply for our cosmetology program! Contact us if you have any questions about how to get started and someone on our team will be happy to help you through every step of the process. We look forward to hearing from you!