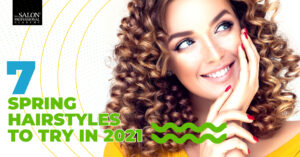 Spring is almost here and we are so ready for it! We know last year had its ups and downs, but a fresh start is just around the corner. Since spring is all about new beginnings, now could be the perfect time to reinvent yourself. So go ahead, recommit to your goals, make some new ones, and try something new!
Need a little inspiration? Here are 7 of our favorite trending hairstyles to try this spring!
Soft Waves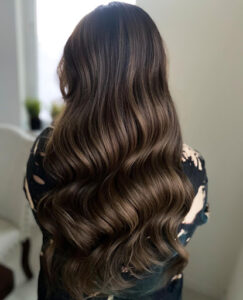 Will these Hollywood glam curls ever go out of style? We don't think so. If you want a soft, romantic, or luxurious look, these big waves are for you. Curl your hair with your favorite barrel size (we like one inch or one and a half inches), allow your curls to cool, then brush through with a wide-tooth comb.
This gorgeous look was done by our student @hair.era. We love it!
Natural Curls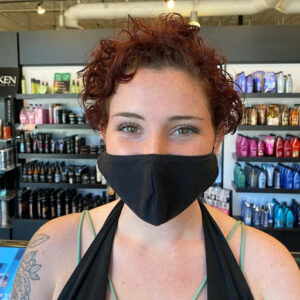 Speaking of curls, natural could be the way to go! If you have natural curls that you've been straightening, braiding, or fighting, there's an easier way. A little oil or moose can help shape your curls, fight frizz, and give you a beautiful air-dried style. If your curls still look a little undone, that's okay! The texture is in, so embrace the tousled look.
Still, need some help caring for your natural curls? We've got you covered! Check out our blog on caring for your curly hair. This cut was done by our student @snippedbysydney. We love how much life and bounce it gave her client's curls!
Curtain Bangs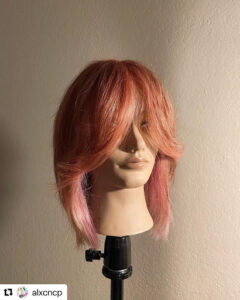 These curtain bangs by our student @alxcncp are right on trend! This 70s look is coming back, and bangs are an easy way to completely transform your look. Plus, the longer length means you have the freedom to tuck them behind your ears if you want to! Who doesn't love that kind of versatility? If you're ready to get some bangs, give this curtain style a try.
Effortless Blonde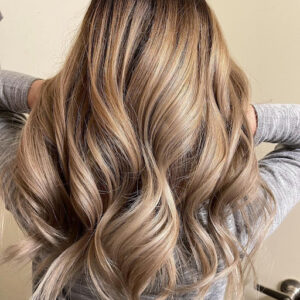 We love an icy blonde as much as the next, but if quarantine taught us anything, it's that roots are real! This color by our student @hairbyrosie124 is the perfect effortless blonde. Keeping your blonde a natural shade with brightness towards the ends and a natural root will help your color grow out beautifully. If you are dreaming of a low-maintenance blonde this year, babylights and a root smudge could be the way to go!
Balayage
The balayage trend is here to stay, and with good reason. Hand-painting mimics the look of naturally-sunkissed hair, which makes this a very wearable style. Balayage is also a great low-maintenance look. Keeping your natural color at the roots means you will have no line of demarcation as your hair grows out. Adding in a little brightness this spring doesn't have to be hard! If you're looking for an easy-to-maintain color, balayage could be perfect for you.
How gorgeous does this color by our student @t00beauty look? We give it high marks across the board!
Pixie Cut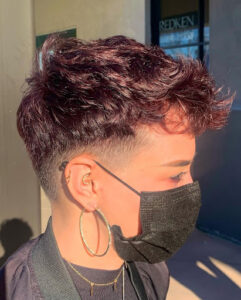 Winter is coming to an end, so don't be afraid to go for a big chop! Get your hair off your neck and feel the California sun on your skin. We love this pixie cut by our student @hairme_mahlani. The shaved sides give this look the perfect edge. You can also keep the sides a little longer to create a softer effect. Let your own personal style inform your cut, and if you need any recommendations on what could look best for you, stop by our student salon! We are always happy to offer pointers and tips!
Vivids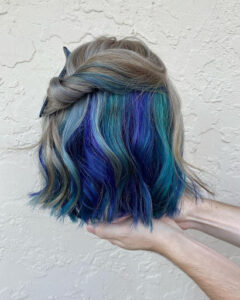 Need a little color in your life? Vivid hair colors are great for those who want to make a statement or have some fun with their look! If you aren't ready to commit to an all-over blue or purple, you can always try a peekaboo. This look was done by our alumni @hairbymadisonbowen when she was a student at our school. We think it looks great!
Reinvent Your Future With an Education in Beauty
Want to reinvent more than just your hairstyle? Get started toward a career you can love with education in beauty. The Salon Professional Academy (TSPA), San Jose offers programs in both cosmetology and esthetics. If you're looking for a rewarding career that allows you to use your creativity, beauty could be perfect for you! Contact us to learn more and see if our school could be your perfect fit. We have scholarships and financial aid available to those who qualify. We can't wait to meet you!