If you are looking to pursue a career in the beauty industry, you may be wondering which type of cosmetology program to enroll in. At The Salon Professional Academy in San Jose, we have two cosmetology programs to choose from. 
In this blog, we will be comparing and contrasting these two options. We will examine the similarities and differences between these two programs, and provide you with the information you need to make an informed decision about which one is right for you!
Comprehensive Education 
The extra 500 hours of training provide you with additional education in the field of Master Cosmetology. While the 1000-hour program may cover the basics, the additional 500 hours allow you to explore different techniques and specialties in more depth. This means that you'll have a better understanding of the industry as a whole, and you'll be better prepared for the real-world challenges that you'll face as a professional cosmetologist.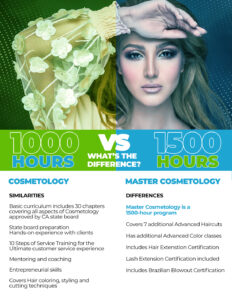 SIMILARITIES
Basic curriculum covering all aspects of Cosmetology approved by the state of California
State Board Preparation
Hands-On Experience with clients
10 Steps of Service Training for the ultimate customer service guest experience
Mentoring and Coaching
Entrepreneurial Skills
Covers hair coloring, hair styling, and hair cutting technique
DIFFERENCES
Master Cosmetology is a 1500-hour program and Cosmetology is a 1000-hour program
Additionally, Our Master Cosmetology Program covers:

7 additional advanced haircuts
Additional advanced color classes
Hair Extension Certification
Lash Extension Certification
Brazilian Blowout Certification
More Time To Practice Your Skills
In addition to providing a more comprehensive education, the 1500-hour program also gives you more time to practice and hone your skills. We realize that getting in and out and graduating as soon as possible so you can start working in the real world is important! Yet many of our students shared that they appreciate more time with their educations to practice and hone in on their skills as well as receiving more coaching in the Student Salon Training Area.
The extra hours allow you to spend more time working with clients which is essential for building your confidence and developing your skills. This hands-on experience is critical because it's one thing to learn about a technique in theory, but it's another thing entirely to apply it in a real-world setting. By spending more time in the classroom and in the salon, you'll have the opportunity to work with a wider variety of clients and develop your skills in different areas.
Cost
One of the biggest concerns for most students is cost. Many students assume that the 1500-hour program would be more expensive than the 1000-hour program, but that's not necessarily the case. In fact, the price difference between the two programs is often minimal. While the 1500-hour program may cost a little more upfront, you'll likely make up that difference in the long run through better job opportunities and higher pay. Plus, investing in your education now can pay dividends down the road in terms of job security and career advancement.
More Time With Your Instructors And Classmates
Another advantage of the 1500-hour program is that it allows you to build stronger relationships with your instructors and classmates. Over the course of 1500 hours, you'll have the opportunity to work closely with your instructors, who can provide you with valuable feedback and guidance. You'll also have the chance to build relationships with your classmates, who can serve as a support network as you navigate your way through your education and your career. These relationships can be invaluable as you start your career, as they can help you find job opportunities and connect with other professionals in the industry.
Ready To Pursue Your Dream Career?
Whether you decide the 1000-hour Cosmetology or the 1500-hour Master Cosmetology is best for you, we have you covered. By investing in your education now, with the help of licensed educators, you can prepare yourself for challenges in the real world. This can lead to better job security and opportunities for career growth in the future.
If you're ready to take the next step toward your dream career in the beauty industry, we invite you to take a campus visit. Our experienced instructors and commitment to providing a supportive learning environment can help you build the skills and confidence you need to succeed. Contact us today to learn more about our program and take the first step toward your future as a licensed cosmetologist. We can't wait to hear from you!