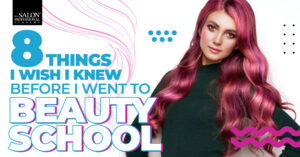 The decision to go to beauty school is an exciting one! Many of our students at The Salon Professional Academy (TSPA), San Jose are happy they chose to start their beauty education. There are a lot of program options that could change the future of your career path. You may feel overwhelmed by all the things you need to consider.
From picking the right school to figuring out how you're going to pay for it, researching beauty schools can be time-consuming! Before you jump into your education, let us tell you some common things students wish they knew before starting beauty school.
1. There Are So Many Options
Most schools have a variety of programs to choose from. Each program comes with its own unique set of opportunities and challenges. Think about what you're passionate about. Are you passionate about hair or skincare? Your passion is important in shaping your future.
We offer the following programs and courses at The Salon Professional Academy: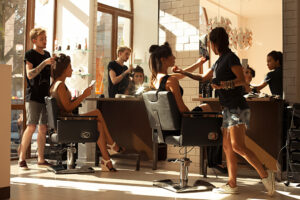 2. You Can Work With Great People!
Whether it's your instructors or your classmates, attending beauty school allows you to meet some amazing people.
Your instructors have been in the same situation, so they want you to succeed. They've jumped over these hurdles and understand your struggles. Your instructors want to help shape your future through education. Trust in their knowledge. They could be some of your most valuable resources and connections in the beauty industry.
Your classmates can be a support system and community. You can help each other feel beautiful as you learn to make others feel beautiful. Bonding as you learn together, you might just make some lifelong friends!
3. Instagram Doesn't Show the Hard Work
Most everyone has been amazed by the work of a stylist on Instagram. And their work is amazing! However, it's important to keep in mind that those are just the "greatest hits". You don't see the prep work, the failures, or the stress behind every style. Don't let the successes posted on social media discourage you. Each of those successful stylists has felt the same way.
4. Don't Be Afraid of Commitment!
When looking for beauty schools online, 1600 hours may not seem like a lot. However, you are constantly learning beauty industry skills during that time. That takes a lot of energy and dedication! Whether you're in class or on the salon floor, you'll always be taking in new information. Beauty school is rewarding, but it is a commitment.
5. Prepare to Make Genuine Connections with Clients
If you've ever been to a hair salon, you know clients tell their stylists almost everything. Talking helps pass the time and it's no fun to talk about small things like the weather. As you work with clients, you will hear a lot of stories and secrets about them.
Having a back-and-forth conversation with your client is a good sign. It means you're building a bond. Just prepare yourself for topics that may be heavier than others. For the most part, it's wonderful to bond with your clients. Who knows? A fun conversation could turn a nervous client into a regular client!
Check out these ideas to help get the conversation started!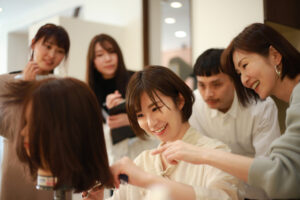 6. It's An Investment
There is one big factor that can stop people from attending beauty school: cost! Every student's out-of-pocket expense differ due to their financial aid* eligibility and chosen program. To help ease the burden, scholarships are available.
Reach out to our financial aid team to get a sense of what resources would be best for you. We want to make your transition to a beauty school as smooth (and affordable) as possible.
7. Skills and Techniques You Can Learn!
We mentioned the different programs you can study. Now let's talk about what those programs have to offer!
Before picking a program, it's important to know what skills the curriculum covers.. The skills you learn at beauty school are an important part of developing your career. At TSPA San Jose, we offer cosmetology and esthetics programs.
Here is a list of some of the skills you could learn in each program:
Cosmetology Skills and Techniques
Redken-infused styling
Haircutting
Highlighting
Balayage
Color Correction
Root Touch-Up
Ombre
Mermaid Colors
And More!
Esthetics Skills and Techniques
Facials
Waxing
Microdermabrasion
Chemical Peels
Makeup Artistry
Eyebrow Beautification
And More!
We also want to help you build your business skills! These skills could help make you a more well-rounded beauty professional. We offer workshops in:
Sales
Social Media
Resume Building
8. It Could Be The Best Choice You'll Ever Make!
When all is said and done, going to beauty school may be the opportunity you've been waiting for! You can beautify your future as you study to help others feel beautiful. Beauty professionals are (and always will be) an important part of any community.
You could help boost people's confidence and help them see their beauty. And unlike other professions, a career in the beauty industry allows you to tap into your creativity. Going to beauty school can help you turn your creativity into a future career.
Create some smiles. Share some laughs. Grow your skills to make the world a beautiful place!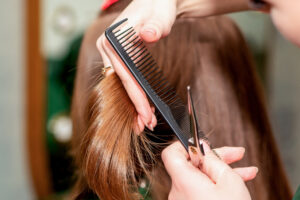 Start Your Journey Today
The next step in your beauty journey is applying to our school! Our admissions representatives would love to get to know you and answer your questions. You can also schedule a tour to visit The Salon Professional Academy and see if we're a good fit for you.
Contact us to learn more and see if we are the right school for your beautiful future!
*Financial aid is available to those who qualify.