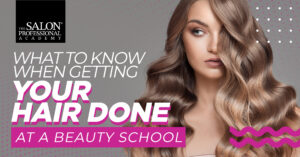 If you have ever looked up "hairstylist near me" on Google, you may have noticed that some of the top search results are local beauty schools. This is because many beauty schools offer hair styling services in their student salon training area.**
These student salon training areas are staffed with students who receive guidance as they provide haircuts, coloring, treatments, and more to clients. The services in these salons are also priced far lower than what you'd see at a typical salon – so here's what to expect during your appointment!
All services performed by students under the supervision of licensed professionals.
You Will Receive Services from Cosmetology Students
A student salon training area is where students can gain real experience before they graduate and enter the job market. However, since you will still be receiving services from someone who is still in the process of learning, you might find that they take more time than experienced salon professionals.
However, slower service does not mean their work will be substandard. On the contrary, all the students working in the salon will have already learned and practiced hair styling services in the classroom.
As a result, student stylists will provide you with the same level of care and detail as someone who has years of experience under their belt. You'll just need to be a little more patient and understanding with the speed at which they perform their services.
Finally, if you treat student stylists like regular professionals, you'll be helping to develop their professional skills. It's very important for beauty school students to learn how to engage with clients and build connections as they work. So, by continuing a friendly conversation during your appointment, you can help them build their confidence and prepare them for their future client interactions.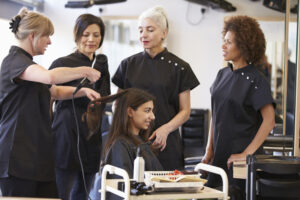 Instructors Will be Around to Help
It's important to note that your student stylist will not be working alone. Licensed instructors with plenty of experience in the beauty industry will be around to supervise and guide the student through their work.
So, if it is the student's first time doing a specific technique, the instructor will step in and lend a hand to ensure the student carries it out properly. This way, the client will always receive the highest quality of service no matter the student's experience level.
The instructors also heavily monitor everything the students do to ensure they follow all safety and sanitation protocols. For example, the instructor will ensure that all the students wash their hands before touching hair and that they use clean combs and tools on each client. In t a student salon training area, you will have peace of mind knowing that your safety is a top priority.
Communication is Important!
Make sure that you clearly explain what you want to the student stylist, so they know exactly what type of cut, color, and service you are looking to receive.
Bringing in photos can be quite useful to help them visualize the style you are looking to achieve. Additionally, it can help you avoid miscommunication if the student stylist has a different idea about what you want.
Finally, be sure to communicate during the haircut as well. For example, if you'd like your hair to be cut a bit shorter, let them know as they work. Remember, the student will probably be pretty nervous and want to do a good job. Giving them feedback will help!
It Might Take a Little Longer
Our students are awesome but remember, they're not professional stylists yet! They're learning and practicing on the job with the help of an instructor. Depending on what service you want, it may take two or three appointments to achieve the desired results. We also follow strict sanitation protocols to keep our guests, students, and instructors safe. So as we're making sure things are squeaky clean, hygienic, and ready to go, you might need to wait a little longer for your appointment to begin.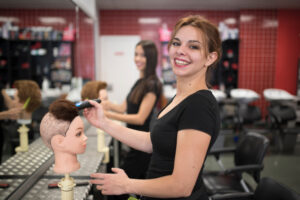 You Can Get More than Just a Haircut
Going to a student salon training area is a great way to save money on hair services such as coloring, highlights, treatments, and styling. In California, the average cost of a woman's haircut can be upwards of $80, while additional services, such as coloring, can double the cost of service. 
However, student salon training areas offer their services for just a fraction of that cost without sacrificing quality. Many student salon training areas also offer hair services for both men and children. So, your whole family can enjoy discounted services!
Schedule an Appointment Today!
Going to a student salon training area is an amazing way to support the beauty school while receiving high-quality services at a discount. Typically, your entire service cost will go directly back toward funding the beauty program and improving the quality of training it provides. So, not only will your experience be beneficial to the student, but it will also help countless other students in the future.
If you're looking for great, affordable salon services near you, be sure to check out The Salon Professional Academy in San Jose.
From day one, we guide students through an extensive curriculum on beauty industry standards and techniques. Then, with our dedicated instructors by their side, our students offer the same level of excellence and professionalism at our student salon training area as they would in an actual salon.
Learn more about our student salon training area services and beauty programs today!
All services are performed by students under the supervision of licensed professionals.