You did it, you've finally made the decision to go to beauty school. Enrolling into beauty school is the exciting first step to your future in the beauty industry. Whether you're starting in a week or in a few months, you probably have some questions. To help, we've created this complete guide to starting your beauty school journey!
Thinking About a Future in Beauty? It's Time to Get Started!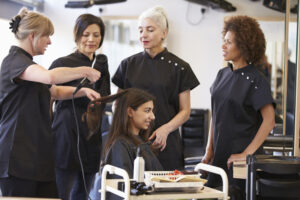 If you've been thinking about a future in beauty school, then now is the time to get started! Unlike traditional college that starts in the fall or spring, you can virtually start beauty school at any time. There is no bad time to start pursuing your beauty dreams. If you're ready to get started, here are the steps you need to take in order to meet your goals. 
8 Things I Wish I Knew Before I Went To Beauty School
We love seeing how excited our students get to start their beauty school journeys! However, when it comes to beauty school, there are a lot of things to consider. What program you'll study, how you'll pay for it, and what schedule fits yours. Before jumping into your beauty education, here are eight things our students wish they knew before starting beauty school.
Which Beauty School Path Should You Take?
When enrolling in beauty school, one of the first decisions you'll have to make is, which program you'll want to study. Choosing a program isn't something you want to take lightly because ultimately, it's what can lead to your future career. Whether you have a passion for hair or skincare, The Salon Professional Academy has a program for you! Take our quiz and see what program could be your perfect fit.

What to Expect on Your Beauty School Tour
After you've picked what program you'd like to study, it's time to find your perfect beauty school. Before you submit any applications, it is highly recommended that you schedule a beauty school tour of the campus. Scheduling a tour of a beauty school before you start training will help you feel far more prepared for what's ahead of you. Here's what to expect during your beauty school tour.
Paying For School: Everything You Need to Know
After you've found your perfect school the next question you should ask yourself is: How am I going to pay for beauty school? At the Salon Professional Academy, San Jose, we want anyone who has a passion for beauty to pursue it without financial roadblocks. That is why we proudly offer financial aid to those who qualify. Learn everything you need to know about paying for your beauty school education and more! 
What Scholarship Opportunities Are Available for Beauty?
One of the best ways to help you pay for beauty school is through scholarships. Scholarships are a form of financial aid* that are awarded to students to help further their education. Typically, scholarships are awarded based on different criteria but the best part is that it's money that you don't have to pay back. When it comes to beauty school, scholarships are often forgotten, but there are plenty that students can apply for. 

5 Things To Do Before Your First Day of Beauty School
The last step to going to beauty school is to get ready for your first day! Your first day of beauty school is going to be both fun and informative. At The Salon Professional Academy, San Jose, we want our students' first days of school to be a success. So here are the 5 things you should do before your first day of beauty school. 
Why Choose TSPA San Jose
The most important thing to remember when going to beauty school is that the school you choose can impact your future in the industry. You'll want to choose a school that has your success in mind. So, why choose The Salon Professional Academy, San Jose? Our programs are designed to help you learn the skills you need to be successful in the beauty industry. 
Get in Touch!
Now that you know all you need to know about starting beauty school, get in touch with The Salon Professionals Academy, San Jose, to get started! We look forward to meeting you and helping you start your beauty journey!