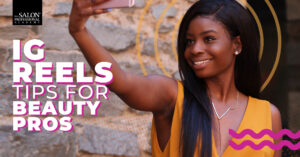 Ready to grow your following, increase engagement, and have fun doing it? Make Instagram Reels a part of your content strategy! On the @creators account, Instagram described Reels as a "place to watch short, fun videos, and helps your Reels get discovered by new audiences on a bigger, global stage."
Instagram loves to reward accounts that use its features, especially newer features. In some cases, Reels has been shown to perform better in the algorithm than IGTV. So how can you take advantage of Reels to grow your account? Keep reading for some of our best tips!
What Are Instagram Reels?
First things first, what are Instagram Reels? Similar to TikTok, IG Reels are short, entertaining videos that are meant to be casual and fun. Reels can be 15-30 seconds long, can have audio, and can be shared directly or through remixing. Reels have been shown to have a longer shelf life than feed posts, sometimes being promoted in the explore feed for weeks or even a month after being originally posted.
View this post on Instagram
Reels that do well tend to be funny, educational, entertaining, or relatable. This means they can be very sharable content, which is great to help your account grow! Users can share your reels through their stories, save them, or send them to their friends via direct message. Making content your users relate to and want to share is a great way to get your account noticed!
How can you create shareable content? Here are some of our best tips!
Tip 1: Add Audio
Adding audio to your Reels is an easy way to make them more dynamic and relatable. Try and use music you think your target audience will like. Is your audience trendy and young? Maybe popular music or top hits will resonate with them. Or is your audience more eclectic? Indie may be the way to go. If users land on your Reels and hear a song they love, this is an easy way to grab their attention and start attracting your tribe!
Not all accounts may have access to audio in the Reels editor on Instagram. If this is you, don't worry! You can work around this by editing your Reels in a different app, like InShot or iMovie. Once you are done editing your video, save it to your phone. You can then directly upload your finished video to Reels!
Tip 2: Use Text
Not everyone always has their audio turned on when they are scrolling through Instagram, though, and that's why we also recommend using text in your Reels. The text makes sure that users can engage with your content even without sound. Making your Reels as accessible as possible is always good practice.
Get creative with how you use text! Remember, Reels are all about having fun. One trend we see over and over is pointing to text bubbles, like in the Reel below. Make sure to use consistent branding by sticking to the same fonts and colors!
View this post on Instagram
Tip 3: Create Cover Photos
Creating cover photos is another great way to make your Reels as easily accessible as possible. If someone is viewing your Reels on your Instagram feed, cover photos can show them what your Reels are about before clicking on them. This makes it easier for users to find the content they would find helpful or valuable.
Making the user experience as easy as possible shows your customers that you create content with them in mind! It can help your feed be a place where users want to come back and see more. You can create your cover photos in a photo editing app of your choice beforehand and upload it directly to your Reels when you go to post!
Tip 4: Make Use of Content Buckets
Are you ready to hear the good news? Not all of your content has to be specific to beauty. We know it can get tiring trying to continually come up with new ideas and new content to post! Making use of content buckets that relate to your field is a great way to come up with new content faster.
For example, you may have a few categories your content revolves around:
Skincare
About You
Motivational
Product Features
Even though this Reel is about self-love, it can still fit well into your overall beauty content strategy! You could also include wellness tips, facts about you, or even your favorite local shops to eat at. It all just depends on your audience and what would be interesting to them!
Tip 5: Watch Reels To Get Ideas
Still at a loss for inspiration? Watch Reels to get some ideas of what is performing well for others or what content is trending! Our tip is to watch both Reels that are within and outside of your industry. The idea is not to copy other users' content but to get ideas. Sometimes it can be easier to create original content by watching what is trending outside your industry and thinking of ways to make it work in the beauty niche.
Wondering what trends we are seeing in beauty? Keep reading to see just a few trends we have noticed in our feeds.
Tutorials
Tutorials and how-tos are almost always popular content pieces. In this day and age, it's all about providing information quickly, at the tap of a button, and how-tos are a great way to do this. You can showcase easy hairstyles for your followers to replicate, how to properly wash your face or a tutorial for fun nail art!
View this post on Instagram
Satisfying Videos
Satisfying videos are one reason ASMR has surged in popularity. This trend is all about creating content your users just can't look away from. It may be super shiny hair, extensions that create a sense of awe, or brushing through tight curls to create loose waves. Peeling off a face mask, showcasing a dip manicure, or pulling foils out of hair can also be great satisfying videos!
View this post on Instagram
Educational Tips and Tricks
Dos and don'ts or other educational tips and tricks also tend to perform well. Your followers want you to be an authority in your field, so be sure to teach them what you know! This kind of content is extremely helpful to your users, and if they find that your tips work, it also builds trust. If you want the kind of clients who sit down in your chair and say, "Do whatever you think is best," start building your status as an authority by putting out educational content!
Pursue Your Beauty Career
Are you thinking of turning your passion for beauty into a career? Get started with The Salon Professional Academy (TSPA), San Jose! We have programs in cosmetology and esthetics, and offer financial aid to those who qualify. Contact us online to learn more about our school or schedule your tour today. Your dream career could be just around the corner!