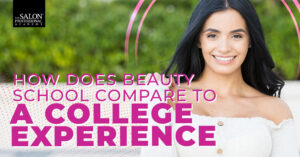 If you are approaching your high school graduation or you've recently completed school, chances are that you're wondering what you should do next. Many people decide to enroll in college to further their education for a specific career path. But there are other options to consider – including going to a beauty school for a cosmetology or esthetics program.
Now, you may be wondering if that's the right decision for you for several reasons. If you've always dreamed of working in the beauty industry and you've got creative talent, it could be a great fit! But does that mean that you'll lose out on the typical college experience?
Here's what you need to know about going to beauty school and how it compares to attending a four-year college.
Cost Comparison of Beauty School vs College
We all know that going to college is expensive. The average American college student takes on nearly $40,000 in debt through student loans! This can take years or even decades to pay off entirely, especially if you are not entering a high-paying field or position after graduation.
Now, many colleges do offer grants and scholarships that students can apply for to cut costs down. Further, most colleges also offer financial aid to students who qualify based on aspects like their income, family income, military status, or even their grades.
The great news is that beauty school is far more affordable than most colleges. Plus, there are financial aid and beauty school scholarships available for both the cosmetology and esthetician programs at The Salon Professional Academy in San Jose!
Since our school is accredited by the NACCAS (National Accrediting Commission of Career Arts and Sciences), students may also apply for federal student aid through FAFSA. This can help to make the beauty program far more affordable and leave you with far less debt after graduating from the program!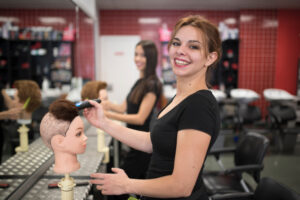 How Long the Program Takes to Complete
It typically takes about 4 years for full-time students to earn a bachelor's degree in college. During this time, you might not be able to hold a full-time job since you will spend a lot of time in class and studying. And if you want to go into specific careers, you may need to attend grad school after that!
Beauty school programs have mandated hourly requirements from the state – and take far less time to complete than a traditional college education. For instance, cosmetologists must complete 1600 hours of training before they can apply for their license in the state of California. Full-time students can complete this entire program in about one year.
Another great reason to consider going to beauty school is the flexibility in the timeline for your program. Students can enroll in either full-time or part-time programs, which include weekend and evening classes for students with busy schedules.
Now, it will take part-time students a bit longer to complete their programs. For instance, the esthetics program in the state of California is only 600 hours. Full-time students can complete their training in just 4.5 months and part-time students can get it done in under 10 months.
Campus Life
Perhaps one of the greatest draws for young people to attend a typical college is campus life. You are surrounded by people your age with similar interests, and most people make life-long friends during this time in their lives.
But just because you opt to go to a beauty school instead of college doesn't mean that you'll have to sacrifice this experience! First, you will be learning with other students of all ages and backgrounds. Many cosmetology and esthetics students grow quite close throughout their programs. Plus, you will also get to learn in a creative environment with students who have a love for the beauty industry.
At The Salon Professional Academy at San Jose, we strive to make sure that our students can balance learning and fun. You can learn more about student life at our school by checking out our social media feeds!
Gaining Experience for Your Career
It can be hard to gain much hands-on experience in college unless you have the opportunity to join an internship. This makes it quite hard to find a job after graduation unless you find an entry-role position.
So, one thing that makes beauty school totally unique is that you can gain real-life experience as you learn! The Salon Professional Academy at San Jose has a student salon where you can work with real clients.
Both our cosmetology and esthetician students have the chance to work in a student salon as they complete school. This means that they can practice all of the techniques they learn in the classroom in real life.
This can really give you an advantage and help you find the type of job that's the best fit for you once you earn your license. Many estheticians and cosmetologists opt to work in salons or spas, so knowing what to expect beforehand can be quite beneficial.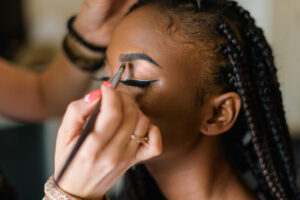 Do You Want to Learn More about Enrolling in Beauty School?
If you're looking for a different path towards the career of your dreams than the typical college education, enrolling in a beauty school could be a perfect choice! You can learn more about our cosmetology and esthetician programs by contacting The Salon Professional Academy in San Jose!
You can connect with our team virtually or by giving us a call at 408-703-8757.