Summer is just around the corner, which means that wedding season is officially in full swing. We love seeing the beautiful styles people wear on their special day. If you're planning your wedding or you know someone getting married in the next few months, chances are that you've been busy. From deciding which shoes match your outfit to finding the perfect dress, there's a lot to think about. 
With so much happening, it can be easy to forget about the little details like how to do your makeup. Don't worry! We've put together a guide of makeup styles to wear, inspired by looks from our students. Whether you're a guest, bridesmaid, or the bride herself, we'll guide you through five stunning makeup looks that will leave you feeling confident and radiant on the big day.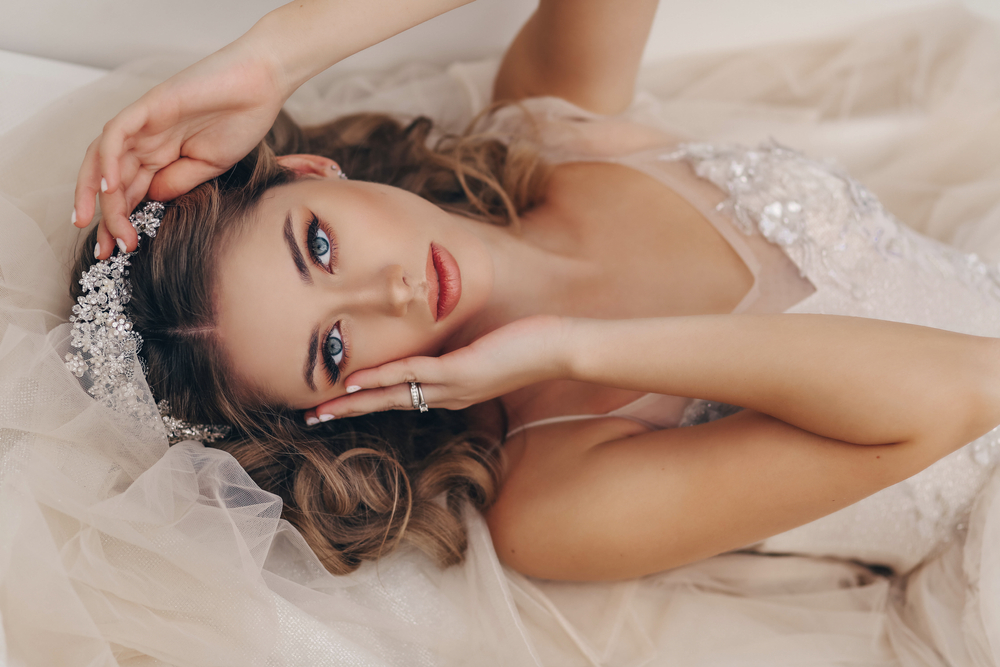 THE CLASSIC BRIDAL GLOW
There's something timeless and elegant about a classic bridal makeup look. Begin with a flawless base using a lightweight foundation that matches your skin tone. Conceal any imperfections gently and set the foundation with a translucent powder. For a subtle glow, apply a soft highlighter to the high points of your face, such as the cheekbones and the bridge of the nose.
Enhance your eyes with neutral eyeshadows, opting for shades like champagne, taupe, or soft brown. Line your upper lash line with black or brown gel eyeliner and finish with a few coats of mascara to make your eyes pop. For a touch of romance, choose a rosy blush for your cheeks and a long-lasting nude lipstick to complete the look.
INNER CORNER HIGHLIGHT
With all the different color combinations available for this look, an inner corner highlight is a great makeup choice for bridesmaids to wear. No matter what color your dress is, matching it with a base eye color and brightening up the corner with something extra can help complete your look! This added splash of color can make your eyes look brighter and more awake. 
Apply a shimmery eyeshadow in a light, champagne or pearl shade to the inner corner of your eyes. This will instantly make your eyes appear larger, more awake, and full of radiance.
Pair this inner corner highlight with a soft neutral eyeshadow on your lids, such as a light beige or dusty pink shade. Add a thin line of eyeliner for subtle definition and finish with a coat of mascara. This simple yet impactful look will make your eyes twinkle and draw attention to your gorgeous gaze.
NATURAL GLAM
The trendy look of natural glam makeup has been gaining in popularity and it's not going away anytime soon. That's totally okay with us! We love this more natural look and think that it'll look amazing on any bride when she's walking down the aisle. 
Start by applying a neutral eyeshadow shade that complements your skin tone, such as warm browns, soft taupes, or subtle mauves. Blend the eyeshadow seamlessly across your lids for a soft wash of color. Define your eyes with a thin line of brown or black eyeliner along your upper lash line. Finish with a few coats of lengthening mascara to add volume and elongate your lashes. This understated yet glamorous look will enhance your natural beauty and make your eyes sparkle with elegance.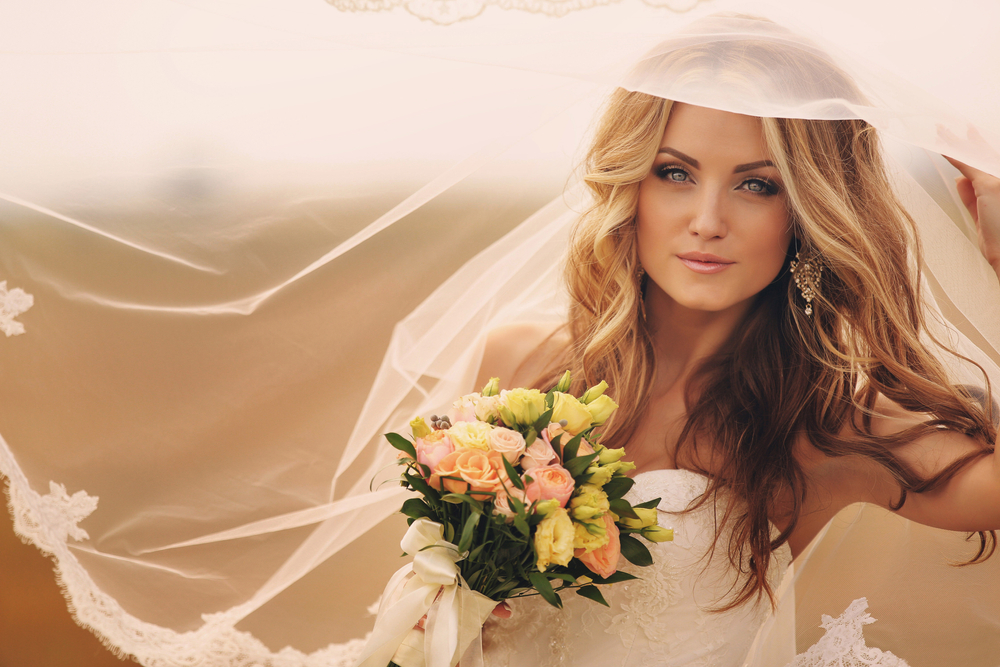 THE GLAMOUROUS DIVA
If you're a bride who loves drama and wants to make a statement, the glamorous diva look is perfect for you. Start with a flawless, full-coverage foundation that matches your skin tone. Contour your face to define your cheekbones and jawline, giving your features a sculpted effect. Apply a shimmery highlighter to your cheekbones, the inner corners of your eyes, and the cupid's bow.
For the eyes, use smoky shades like charcoal gray or deep plum. Apply a black liquid eyeliner for a bold cat-eye look and finish with volumizing false lashes. Complete the glamorous look with a bold red or berry lipstick that will turn heads as you walk down the aisle.
THE BOLD AND BEAUTIFUL
For the adventurous bride or guest who loves to experiment with bold colors, this makeup look will make you stand out from the crowd. Now is the perfect opportunity to wear an eyeshadow that's bold and emphasizes just how beautiful your eyes are. 
Choose a striking shade that complements your eye color and the wedding theme, such as emerald green, royal purple, or electric blue. Apply the bold eyeshadow color all over your lids, blending it seamlessly for a smooth transition. Pair it with a neutral shade in the crease to add depth and dimension. Use black or dark brown eyeliner to create a bold winged liner or a smudged smoky effect. Finish the look with several coats of mascara to make your lashes pop.
WANT TO LEARN HOW TO APPLY MAKEUP?
Did you love seeing these makeup ideas? Are you already planning on trying these and other wedding makeup ideas? If you have a passion for makeup and helping others feel amazing, then an education in makeup could be a great option for you! Contact us to find out more about our Makeup Artistry program and learn how you can start the application process.